Goodbye Nine to Five. Hello Flextime! Being Productive With Work Life Integration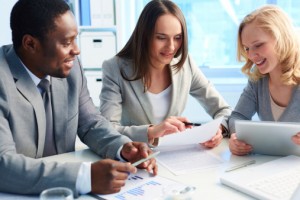 The 9-5 is going the way of the Commodore 64. In a few years, the young folk will wonder how we ever dealt with these big, clunky, inefficient workdays when new, shiny, streamlined ones work so much better. With freelancing, telecommuting, and flextime becoming more common fixtures in today's work world, adherence to this rigid schedule makes less and less sense. Finally! How can you take advantage of these loosening restrictions and stay productive? Don't worry. There's an app, or a thousand, for that.
Tech Tools for Productivity – In and Out of the Office
Technology can be a double-edged sword: smartphones, tablets, the cloud, and other technological advances mean most employees are available 24 hours a day, 7 days a week. It's easy to become a slave to it.
But there's always a bright side, and, in this case, it can outshine the risks of constant availability. Say you get a call from your child's school: she's sick and needs to go home. You can leave work, give her some OJ and chicken noodle soup, and still complete your objectives because you have remote access to your files, documents, clients, and coworkers.
That's just one example: there's myriad others, one for everyone who has reason to eschew a "typical" workday. People who are more productive at night; those who want to stay at the cottage but still connect with the office; those who need to telecommute part- or full-time – for all of these people, technology provides the tools to more seamlessly integrate work and life.
Here are a few examples of tools that can help:
Webex, Join.me, or Gotomeeting. I don't have a skin in this game, so whichever of these virtual meeting platforms you choose is fine with me! These programs, though, go beyond the capability of Skype (which is still a handy tool) and allow you to share documents, share your screen, run conferences and trainings, and complete any number of other activities from the comfort of your home office or favorite café.


Google Anything. Gmail, Google Talk, Google Docs, and other tools in the Google family help you stay on track with your work and your life. You can do anything from sharing files to setting up schedule alerts to finding driving directions to a remote meeting location.


Egnyte. Share files; back up important documents; manage business and personal files from one account; send links rather than attachments –and control how long they're active; control permissions; and more. Your IT people will like it too, because it's secure and makes BYOD easier to manage. You could also try Dropbox or Box.net.



Employees Lacking Motivation?

Paul Marchildon, an experienced Leisureologist, can work with you and your team to increase productivity by incorporating a leisure mindset into the workplace.

Productivity apps. Take your pick: track to-dos and goals with Any.do. Get organized with Evernote. Automate your digital life and send yourself reminders with ifttt. Sign documents digitally and instantly with SignNow. There are countless apps designed to help you boost productivity. Ironically, you can waste a lot of time browsing the app store for them! Pick a few that address your specific needs and will help streamline your day.


Cut the Rope. Yes, it's a game with a character named Om Nom, and the goal is to feed him candy. But hear me out: researchers found that playing this puzzle game improves executive functions. It fires up the area of the brain associated with handling new and challenging situations (like when your video conference tool cuts out during your presentation), multitasking, organization, reasoning, working memory, and problem-solving. Taking some time out to play can yield serious returns.
If Om Nom's not your style, take breaks for other recreational pursuits: working out, meditating, socializing, and enjoying a hobby. These, too, will get your brain engaged and help you stay more productive and motivated.
A conventional workday is an artificial construct. Rather than boosting productivity and engagement, this structure impedes it for many people. If our kids grow up and ask, "What's a 9-5?" I'll consider it a sign of progress! Technological gadgets and apps can help, but the biggest asset is a mindset that values work life integration and recognizes that it's not only possible, but attainable. Just not from 9-5. When we get rid of those restrictions, we can start to make real progress in work – and in life.