No End-of-Year Bonuses in 2014? How to Lessen the Blow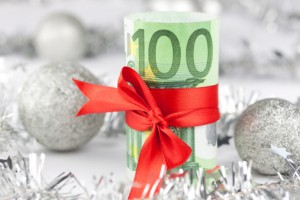 They say it's the thought that counts. "They," as in the people who give you crappy gifts. When holiday season/end-of-the-year rolls around, visions of bonuses dance through our heads. Many companies are beginning to offer pre-recession-level bonuses again, but they are far from universal. And far from consistent. With this type of uncertainty, employees can end up feeling like a kid who gets socks for Christmas. What do you do when you can't find bonus funds in your budget this year? How do you recognize employee contributions – is it really the thought that counts? It can be.
At Atlantis, we were always able to offer bonuses, but there were times when we didn't hit our numbers. That didn't mean that people weren't putting in the effort and hours; issues in the marketplace, the economy – a variety of factors affect whether a company makes its goals. Even if people put in 100%, though, it sends the wrong message to give a full bonus when we didn't hit targets. If we rewarded falling short, what would be the motivation? Why work towards that in the future if you're getting your bonus anyway?
Employees Lacking Motivation?
Paul Marchildon, an experienced Leisureologist, can work with you and your team to increase productivity by incorporating leisure into the workplace.

At the same time, we felt it was important to recognize people's efforts. An end-of-year or holiday reward doesn't need to expensive. It is the thought that counts! No, a creative, meaningful gift isn't a $10,000 check; but it will remind employees that their contributions are valued and their work appreciated.

Warning: it is so easy to do this wrong and end up looking like a fool. One company decided to give their 50 employees frozen turkeys. They brought them in to the office, said, "Here's 16 pounds of frozen meat as a token of our gratitude. Now go back to work." It's hard to cram 50 turkeys into a break room fridge, and the employees were not allowed to go home. Nothing says "We appreciate you" like salmonella.

So, what can you do? It could be as simple as giving your employees an afternoon off in December. We had our people work out days amongst themselves so their clients were covered and happy, and then they arranged to leave at lunch. Christmas shopping is stressful, and hearing "Baby, It's Cold Outside" on a continuous loop time doesn't help. But what if you know that you can just go off and enjoy the afternoon? It's time you didn't have before, and, hopefully, the stores are less crowded. Who knows? Maybe the music is better at 1:00pm on a Tuesday, too.

Again, it's important to do a nice job with this. You could say, "We want to give you the afternoon off! Do some Christmas shopping and relax. But don't forget your report on the Jacobs account is due tomorrow and then you have that presentation coming up. Enjoy!" How much you want to bet that employee is going to the nearest coffee shop to work? That defeats the point! It's got to be time off. Your only expectation should be that your people have a good time.

If you can drum up enough from your disposable executive budget to give them a Starbucks gift card so they can enjoy an eggnog latte while they're shopping, that's a thoughtful gesture. In some cases, you might be able to do a more substantial gift card to a major retailer. In any case, find something within your budget that says, "Thank you. We appreciate you."

Do something to recognize and honor your people instead of something that simply assuages your gift-giving obligation without considering the needs of your people. It is the thought that counts – but you have to make sure that it counts for the employee.