One Week, Two Employees: Here's How to Settle Vacation Time Squabbles the Leisureology Way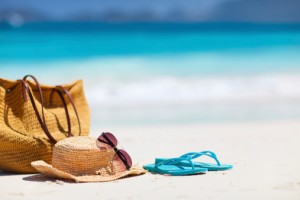 JerkFest. A few August days packed full of flavor, hot & spicy chicken-eating contests, demos, frog legs, and alligator. Not to be missed: the "So You Think You Can Jerk" competition. It's going to be epic; only problem is everyone's is going to vie for vacation at the same time so they don't miss a bite (and so they have several days after to recover). Completely understandable. As a leader, how do you gently let them know that you will be taking off, and they're stuck in the office? Or, if you're willing to take one for the team, how do you resolve situations in which two or more employees want the same vacation time?
Where There's a Will, and Jerk Chicken, There's a Way
This one's easy: Give it to the person who put in her vacation request on January 2. She's a go-getter. That's the route businesses typically take: first-come, first-served – that, or seniority. In both cases, you're penalizing people for failing to firm up vacation plans six months in advance, or simply for being a newbie. Is there a better way to tackle dueling vacationers?
You bet; the leisureology way. You're about results, not taking up physical space in the office, right? So pose this to the employees: "How about the two of you figure this out? Tell me how you can both take the week off and still ensure your clients are delighted."
Maybe it's making sure their work is done so well, and so far in advance, that their clients don't need them. Maybe it's an opportunity for that Account Coordinator to step up and earn her stripes while her mentor is away. Or for the Account Director to get a refresher on the AC's duties while she's away. There is always a solution.
Figure It Out
What if it's just not feasible for them to take the same block of time? Tell them to work it out. You've got other things to do. Say they want the same two weeks. What if one takes the first week of preferred time while the other takes the second? What if one goes to JerkFest and the other goes to AwesTRUCK, Canada's largest food truck festival? That's good.
In any event, there is always a way – it's just not always up to the manager or leader to figure it out. Often, the employees can come up with viable solutions or compromises (whether through intelligent discussion or rock-paper-scissors) if they're given the flexibility and freedom to do so.
As Mike Southern, vice-president of human resources at software company PatientKeeper, says, "You just treat people like professionals and like adults and 99% of the time they'll act that way." (1)
Now, there are times when you have to throw a big bucket of cold water on people's plans and say "No" to everyone. Your team, for instance, shouldn't take time off when you're in the crunch of a major client project. During other times, though, particularly summer, vacation should be actively encouraged.
Remember, it's not the time your people clock that's important; it's the performances they put in. When they can get away, engage in fun, relaxing activities, and clear their minds, they come back with their batteries fully charged. Leisureology isn't just about the leisure pursuits; it's the mindset that people bring back with them.
When employees are allowed, and encouraged, to come up with their own solutions, it only reinforces a leisureology culture. Your company is not run on rigid, and ineffective time clocks, but on results and productivity. Let your people figure out how they can best achieve them. Now, if you'll excuse me, I have a competition to train for.
1. http://www.bostonglobe.com/business/2013/08/20/need-vacation-more-companies-you-can-take-all-you-want/iMcCrOt5fUSLLXTO8TemZL/story.html