The Science of Team Building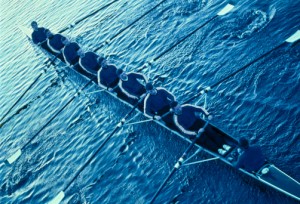 There is no "I" in team. But there is in team building. Two actually.
Team building is about bringing individuals together and demonstrating that the whole can be more than the sum of its parts. When planned and executed effectively, team building gives you an opportunity to drive home your business objectives and get people moving in the same direction. Why not seize it?
I'll give you an example of how this can look, with the caveat that this was 20 years ago. It was super creative in 1993, I promise you. Today, you may have heard of similar activities, but that just goes to show sometimes the simplest ideas are still the best. So, with that, welcome to the boat-building regatta! We broke into teams of six to eight people and gave each group a few large sheets of cardboard, duct tape, magic markers, two paddles and lifejackets. They had to make a cardboard vessel that would carry two team members, make it past a certain buoy, and come back. And not just once. We did elimination rounds, so we needed people to build Old Cardboardsides. 
Employees Lacking Motivation?
Paul Marchildon, an experienced Leisureologist, can work with you and your team to increase productivity by incorporating leisure into the workplace.

It seemed like an impossible task, but eight heads are better than one – when they're working together. When an assortment of personalities, each with their unique skill set and experiences to draw upon, come together to brainstorm a solution, a wealth of creativity is brought to the table. A true team building experience allows every individual to exercise their strengths to better the team as a whole. For example, the more technical among us immediately went to work on the construction of the boats, while the true marketers focused in on the design and branding. Did we ever get some inventive boats (and people) in the water! After the battle was over, we debriefed teams: What was your strategy? How did you work as a team to come up with the design? Did you spend more time strategizing than building or vice versa?

The point was to create an event that was fun but chock-full of strategy, learning, and creativity – all elements that apply to problem-solving in the workplace. It built trust, and it helped people understand their teammate's communication styles, while helping teams meet organizational objectives. 

The value in team building is in the social connections people can forge outside their normal work environment. Alex "Sandy" Pentland, director of MIT's Human Dynamics Laboratory and the MIT Media Lab Entrepreneurship Program, researches the science behind building teams and discovered that "the best predictors of productivity were a team's energy and engagement outside formal meetings." When people can interact outside of their workspace, they feel more comfortable dealing with challenges and problems when they're back in it.

With one company, a call center, Pentland advised the manager to revise the schedule so teams took their breaks at the same time. This gave them the opportunity to socialize away from their workspace. Average hold time decreased by 20 percent and employee satisfaction increased. I instituted a similar policy in my Atlantis days – anytime a deadline forced employees to stay past 6:00 PM, they were encouraged to order dinner and expense it to the company. There was only one condition: Everyone had to eat dinner together in the boardroom. Who really wants one-on-one quality mealtime with a desk, anyways? Encourage your employees to get to know each other, eat together, laugh together – and work together.

If coffee breaks can do this, imagine what well-designed team building events can do! The key to making team building stick is to ensure it marries business and pleasure. This is a chance to help people develop applicable skills they can bring back to the work environment, not the least of which is a stronger, more cohesive sense of team.