Want to Increase Employee Motivation? Treat them like Family!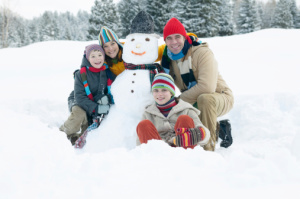 Ask not what your employees can do for you…. That happy employees make engaged, productive employees is not news. It's quantifiable: they're just better for the bottom line. But let's focus on what matters. To them. Happy employees make happy families. Making work/life integration a priority in your organization is good for them. (On a cynical note, whatever's good for them tends to be good for you because happy employees…). Family Day offers a perfect opportunity to show them that you value the "life" part of work/life integration.

Family Day
First, a little background on Family Day. According to the Ontario Department of Labour, "Ontarians work very hard and deserve more time to spend with the people they love." So, they created a statutory holiday on the third Monday of February intended to allow us to do just that.
While not a federal holiday, Family Day is celebrated in Alberta, Saskatchewan, Manitoba, PEI, and Nova Scotia (same day) and British Columbia (second Monday in February).
Regardless of where you live, when you celebrate, what you call it, or whether it's even a recognized holiday for you (only two US states, for instance, have versions of Family Day), you can still seize the opportunity to show employees you care. And you can help them take full advantage of the day.
But Why Should You?
A study published in the Journal of Occupational Health Psychology found that when employees are happy at work, it creates "positive spillover" at home. Researchers looked at 234 dual-earning couples and made a few interesting discoveries:
Employees who receive support from their supervisors and felt they had autonomy and control in their jobs brought those benefits home from work.
When employees were satisfied at work, it reduced their partners' level of depression!
By supporting them, incorporating leisure, and honoring and facilitating work/life integration at work, you're helping create happier, stronger families.
Ok, so the researchers also found that people who are happy at home "transfer those good experiences to their work by increasing their job effort and reaping more satisfaction." Increased employee motivation is a side effect. Positive spillover's good for everyone.
Looking for Work/Life Integration?
Paul Marchildon, an experienced Leisureologist, can work with you and your team to increase productivity by incorporating leisure into the workplace.
Apples to Apples, Anyone?
How can you act as a catalyst for great family interactions? Do something with no strings attached because you're genuinely interested in their happiness and that of their families. Like what? Well, nothing says positive spillover like board games.
Why not give everyone a game, such as Apples to Apples? This one particularly seems to transcend all generations. It's hilarious, regardless of your age, and in fact, it helps bridge generation gaps.
The gameplay involves making interesting, unusual, or just absurd comparisons. The best part – in addition to the fun – is that it's appropriate for families with children, adult children who care for their parents, groups of friends. Whatever "family" is to your employees, they can use this as a starting point for great conversation and interaction.
Provide Value: They'll Return the Favor
It can be as simple as that. Leisureology isn't about spending ungodly sums of money or creating complicated programs. It's about thinking creatively and implementing small, easy practices that resonate with your people. What's important is that you provide something of value to them, something which helps them focus on the "life" side of work/life integration.
And yes, there's a flip side: it makes up for the fact that, at points, they do extra work and put in additional effort. It compensates them for that and reminds them that you do appreciate it. You're helping them feel balanced! And if not "balanced," at least nicely integrated!
The secret of any leisure-oriented initiative, whether Family Day games, Valentine's cards, or chili cook-offs, is to ensure it exemplifies your company brand. Apples to Apples worked well for us, for example, because we were all about creativity. It fit with our culture and our brand.
What will work for your company and its people? Maybe it's as simple as giving them Friday afternoon off so they can get a jump on their Family Day activities. Whatever it is, give them something of value – something they can take home and enjoy with their families.
Ask not what your employees can do for you… They're already doing it. Now do something for them. Help them integrate work and life more seamlessly. For them. For their families. They win. (And yes, when they win, you win!).