Embracing the Olympic Spirit in the Workplace and In Your Sales Strategy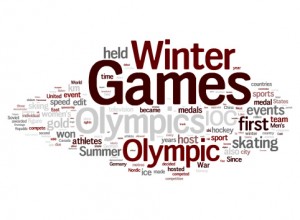 I don't always sob uncontrollably like a 6-year old with a flat bicycle tire, but when I do, it's because I've just watched a Proctor & Gamble "Pick Them Back Up" ad. The Olympics shine a spotlight on the world's best athletes and their skills – but it's these types of behind-the-sports stories that touch a nerve with audiences around the world. The games manage to resonate equally with diehard sports fans and those who go two and four years without tuning into a sporting event. How can you bring a little of that magic to your work?
Sales: the 99th Winter Olympic Event
We worked with Johnson & Johnson's pharmaceutical division, Janssen, a few years back. Our mission was to develop an Olympic theme for their national sales meeting. For a bit of background: the life of a pharmaceutical rep is no picnic, let me tell you. They sit in a doctor's office for an hour, maybe two before they are seen – just like a patient! Instead of pokes and prods, though, they have thirty seconds to two minutes to detail their products. That's all the time the doctor can, or will, give up.
Employees Lacking Motivation?
Paul Marchildon, an experienced Leisureologist, can work with you and your team to increase productivity by incorporating leisure into the workplace.

It's a challenge, and Johnson & Johnson wanted to reinvigorate and motivate their sales force. They also happened to be a proud sponsor of the Olympic Games, so we came up with a theme "Every Second Counts." In the salespeople's real, everyday world, every second they had with those doctors counted. Like a skier flying down a mountain or speed skater gliding across the ice, they needed to perform, and seconds – even milliseconds – mattered.

Train Like an Athlete

We also drove home the idea of preparation. You can't go into a sales call without preparation, just like you don't go into an event without years of training and expect to medal. You have those thirty seconds, that minute in the spotlight, but you have to put in the time to prepare. The early mornings when Mom wakes you up in the dark, makes you breakfast, and drives you 100 miles so that you can train. Thanks, P&G.

But it's this preparation and dedication that makes the difference between a gold and a bronze, or between a bronze and twentieth place. It's the difference between closing a sale and wasting two hours at a doctor's office. You can't half-ass it. You've got to go full-force – something Olympians and salespeople know all about.

Silken Laumann even came in as a motivational speaker and tied her real life experiences (including a nasty rowing accident that left her with a broken leg weeks before the games, yet she still managed to take home a bronze) to the challenges faced in business. The strategy worked, because everyone gets into the Olympic spirit. Everyone knows an Olympic hopeful or follows one. We capitalized on that enthusiasm and personal connection to the games to drum up some excitement with the sales team. 

Capturing the Olympic Spirit

The sales meeting was a huge success. Not just saying that; we measured. The key was leveraging the Olympic spirit to help drive and motivate employees. The Detroit Pistons sales team did this with Olympic-themed contests during the 2012 London Games. 

Reps were assigned to "countries" (sales teams), and whenever one of their "athletes" closed on a suite sale, they scored a point for their team. They also received points when real Olympic athletes from their assigned country won. The salespeople had fun, and even facing the double-whammy of potential productivity killers – summer and the Olympics – they increased sales by 18 percent.

Whether you create Olympic-themed events or contests, or just let your people know they can go catch their favorite athletes competing in the break room, you can invite the spirit of the games into your workplace. The opportunity to engage, build morale, have fun as a group, inspire, and to motivate is simply too good to pass up. You might also want to keep the tissues handy.